Wanneer:
2019-01-25T00:00:00+01:00
2019-01-26T00:00:00+01:00
Waar:
Evangelische Theologische Faculteit Leuven
Sint-Jansbergsesteenweg 97
3001 Leuven
België

Contact:
Institute of Leadership and Social Ethics (ILSE - ETF Leuven)
+32 16 20 08 95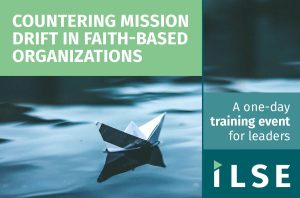 Are you a board member or trustee of a Christian organization, committed to advising, warning and encouraging the Executive? Or are you responsible for leadership, strategic planning and organizational development in a faith-based NGO?
Many Christian organizations and NGO's experience a shift of focus over time, away from their founding mission, core purpose and identity. This is a well-known challenge facing faith-based organizations called Mission Drift. The Institute of Leadership and Social Ethics (ILSE) invites you to participate in a training event which offers practical advice on how to deal with this challenge by providing theological insights.
We will look at examples from the early Church and a case study of World Vision. In discussion we will share and interact with different expert stakeholders – practitioners, academics and network representatives.
See our website for more information about the program.
Register by sending an email to info@etf-ilse.org before 11 January 2019. Note: there is an early bird reduction of €50 on bookings received before November 30th.